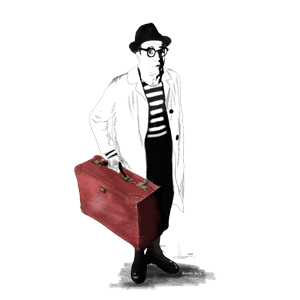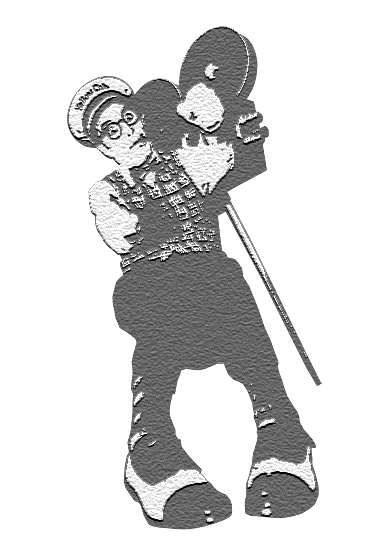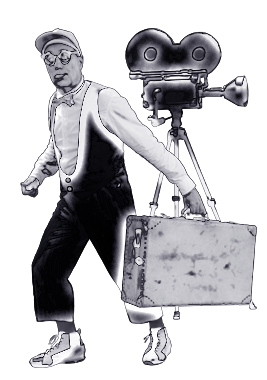 The Catalan Eric Boo does not come from the world of the circus –natural place for the training of a clown- nor from any school of clowns, but he carries out his basic training through mime and the street. Eric, in fact, is part of a new generation of comedians, who appeared in the mid-eighties, and who is characterized by using the language of mime and having been working for some years in the streets and squares, which gives them great freshness and spontaneity.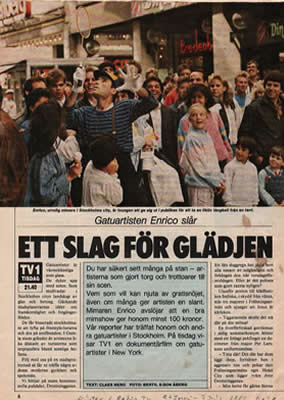 In the streets of Stockholm, Sweeden
  It is through his participation in the "X Festival Mondial du Cirque de Demain" in 1987, as had been the case of David Shiner in 1984 and Peter Shub in 1986 and with whom Eric has a closeness in his comedy, as he gives the jump from the street to the professional world.
"X Festival Mondial du Cirque de Demain", Paris, 1987.
  Enrique Boo (this is his real name) was born in Torelló (Barcelona) in 1955. From 1973 to 1976 he studied Electrical Engineer (Electronic Specialty) and from 1978 to 1983 he studied Fine Arts, graduating in Painting at the Faculty of Fine Arts of San Fernando de Barcelona. Towards the end of this academic stage, Eric came into contact with the world of mime thanks to Christian Athanasius. For our comedian, it is quite a revelation to discover art for which he seems to possess an innate predisposition. Later, in Barcelona, ​​I attended another mime course with Joan Fanecas, which was followed by several body expression workshops. In 1983, Eric begins working on the street, using the language of mime as an artistic tool. In this period he used the name of Enrico. In no time, he not only endows his character with strength and originality but also creates a wide variety of numbers. For five years he performed on the streets of many European cities, thus developing a great facility for improvisation, communication, and play with the public. In this period he sees Johnny Melville perform in a theater in Barcelona, ​​which impresses him greatly and inspires him to create his car number.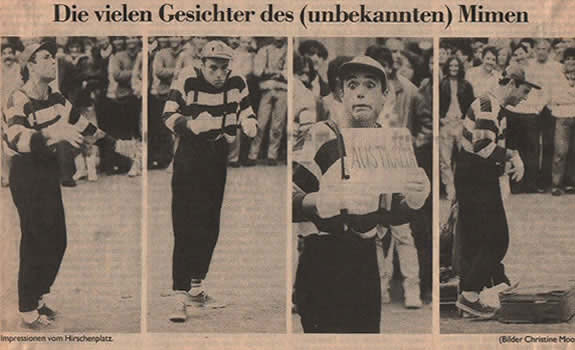 Eric Boo in Zurich. 1984-85
In the summers of 1984 and 1985 he meets Peter Shub on the streets of Zurich, thus beginning a long friendship, peppered with competition, both due to the closeness of his characters and the resemblance of some of his gags. This friendship is transformed into enmity for nearly 20 years by the fact that Peter Shub copies his car number for all those years.
During this period of street artist Eric develops his character and numerous gags that will later serve as a basis to develop his gags as a professional artist. Eric also learns from other contemporary and classical artists that he considers in some way his teachers such as Chaplin, Buster Keaton, Harold Lloyd, Marcel Marceau, Jango Edwards, Jonny Melville and Courtemanch mainly.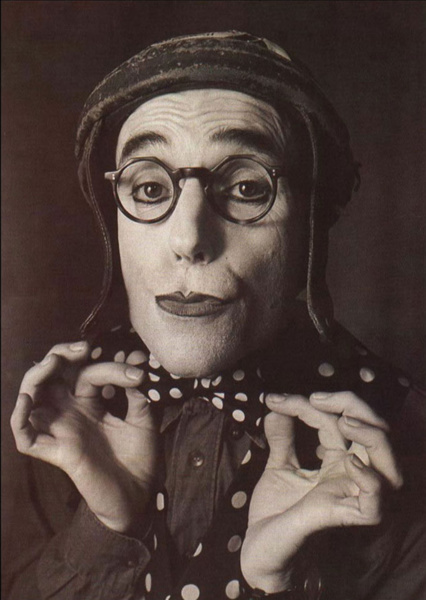 Eric Boo. Photo: James Ligniere
  In 1986, Eric Boo completed a Commedia dell'Arte course in Stockholm, Sweden, the city where he lived for three years. In 1987, despite exceeding the allowed age, he participated in the Tenth Edition of the Mondial du Cirque de Demain Festival in Paris. This invitation signifies the beginning of his professional career, since thanks to him he was hired by Cirque Medrano de Raoul Gibault in France for the 1987-1988 season. Back then, Cirque Medrano, which did not yet have a tent, consisted only of a stage in which a set and a track were placed, with which it tried to imitate the image of a circus. Eric as a painter also takes care of keeping the circus scenery in good condition.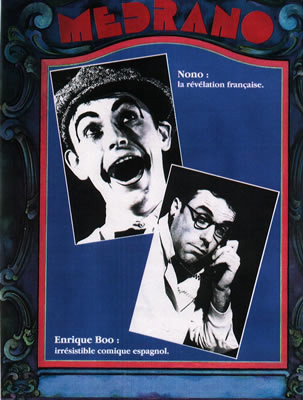 Uses his proper name Enrique Boo for the season with the   "Cirque Medrano", 1987-88.
Shortly after, he was hired, for a period of eighteen months (between 1989 and 1990), to perform in the "Scala" party rooms in Barcelona, ​​Madrid and the Canary Islands. It is in "Scala" where he adopts his name as the definitive artist of Eric Boo and where he assembles his number "The Movie", with material developed during his period as a street artist, which opens the doors of the Moulin Rouge, at the end of his season with "Scala".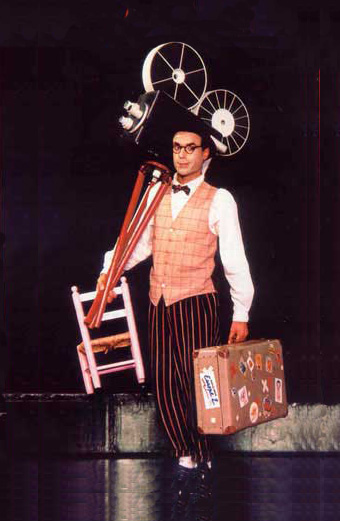 Eric Boo, "Scala", Barcelona, Spain.
  Eric Boo arrived in Paris in 1991, four years after starting his professional career. Eric suddenly finds himself performing in one of the most famous cabarets in the world: the Moulin Rouge. For 4 years he performs every day, two shows every night, without any day off, and with only two weeks of vacation per year. An exhausting experience, very physically and mentally demanding but rewarding and enriching since it allows you to polish your numbers to the smallest detail and develop a discipline of work and professional demand that has accompanied you throughout your life as an artist. This first contract was followed by several more throughout the years, totaling in 2015, his last year of acting at the Moulin Rouge, the 11 years of work in this legendary Parisian cabaret.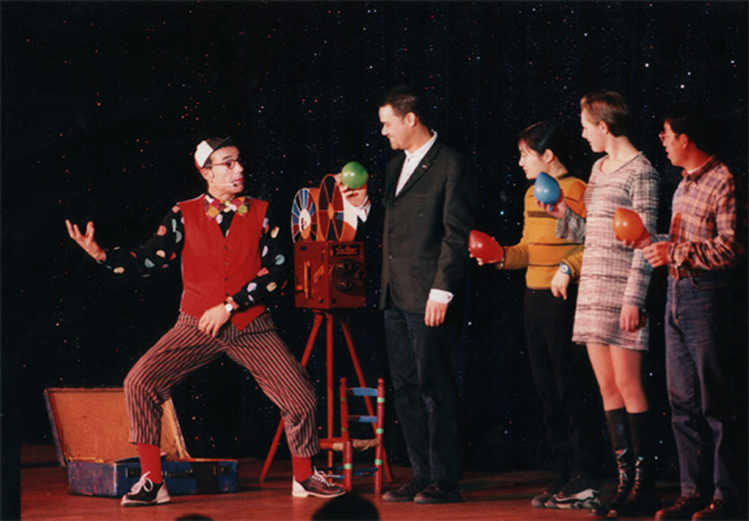 In the Moulin Rouge, Paris.
  In 1994, Eric participates in the "II International Grand Prix of the Circus" of Genoa (Italy), where he receives a Silver Track and in which he coincides with David Larible.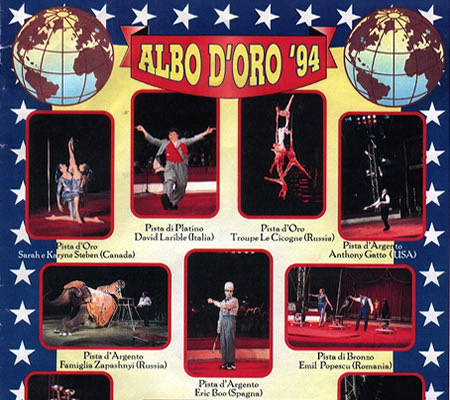 Silver Price at the "II Gran Premio  del Circo", Genova, Italy, 1994.
  In 1995-1996 he spent a season in Austria and Switzerland with the "Osterreichischer National-Circus Louis Knie". That was the second time that Eric was performing in a circus, but this time was a real one. With Circus Medrano, it was like working in the theatre even we were living in caravans, but in Louis Knie was a real circus with all the beauty, the close contact with the audience, the hard-living, the freedom, and a real ring as a stage surrounded by the audience. a great experience although Eric preferred to work in a music hall and cabarets. Living in an apartment allowed him to have more space to develop other activities such as painting and leading a more organized life without so many changes of places and constant trips. However working in the circus from time to time Eric thinks it is enriching and returns him to a similar feeling to when he started acting on the streets of Europe, reconnecting with that close contact with the public.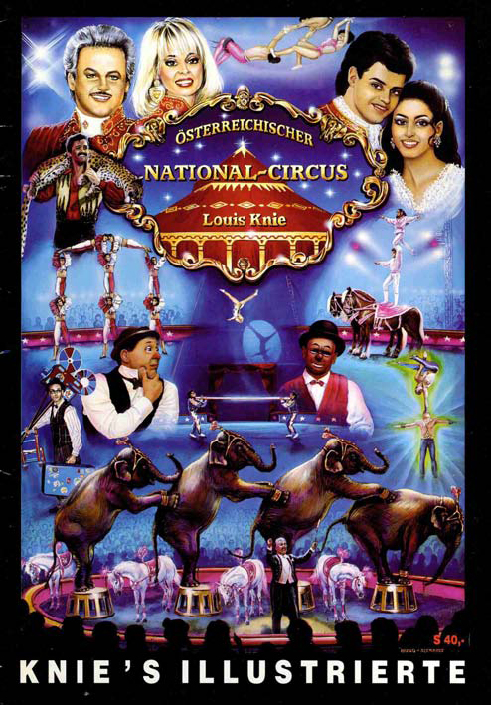 In "Osterreichischer National-Circus Louis Knie ", Austria.
  Two seasons follow, in 1996 and 1997 at the Son Amar performance hall in Palma de Mallorca, where he will return later for three more seasons in which he decides to install his residence on the Island.
From here Eric Boo begins to perform in numerous Circus and Varieté shows in Europe: "Polygon Varieté", in Zürich; Sarrasanni Circus in Austria; "Cirque de Lune" in Switzerland; "Varieté de Bâle" in Switzerland; Benidorm Palace in Alicante, Spain; Apollo Varieté in Dusseldorf, Germany; Friedrichbau Varieté in Stuttgart, Germany; Roncalli's "Spiegelt Zelt" in Germany, Circus Scott, Royal Caribbean Cruises,…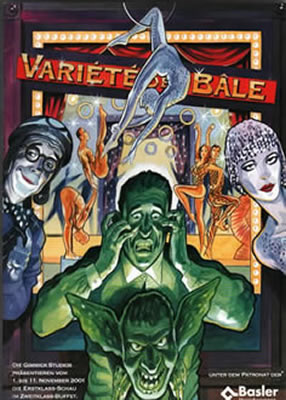 In "Variété de Bâle", Switzerland
In 2014, Bernhard Paul calls him as a guest artist in the show "Salto Vitale" of the "Circus Roncalli" and for the "WeinachtsCircusRoncalli",  Tempodrom, Berlin.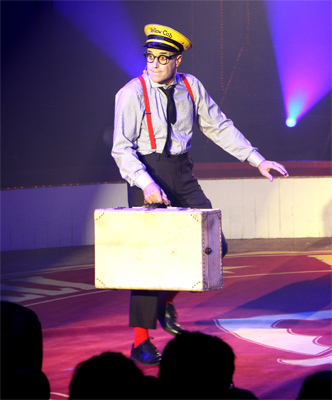 In "WeinachtscircusRoncalli, Tempodrom, Berlin.
In 2019 he is invited to participate in GotTalentEspaña5 where the public insistently asks for the Gold Pass, for his performance with the number "The Car".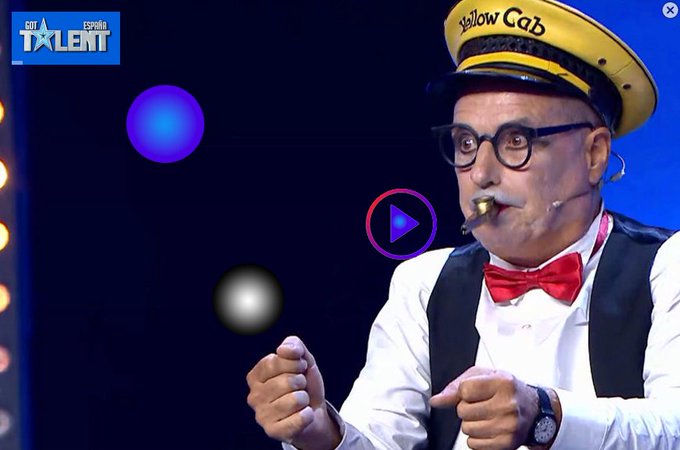 In GotTalentSpain5, 2019.
In 2019 he is invited to participate in GotTalentEspaña5 where the public insistently asks for the Gold Pass, for his performance with the number "The Car".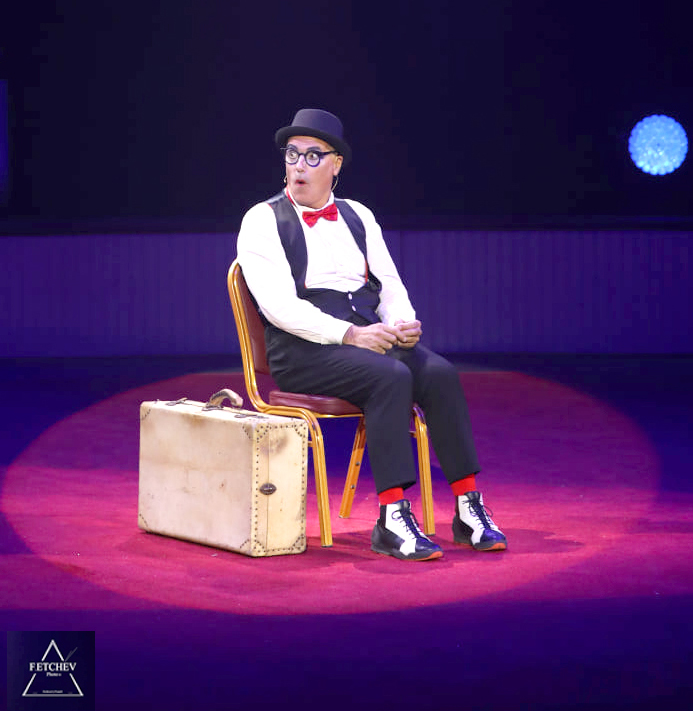 Eric Boo. Circ de Nadal Girona. Photo: Franck Etcheverry
At Christmas 2020 he participates in the Gran Circ de Nadal de Girona, invited by Genis Matabosch. It is the first time that he has performed in a circus show in Catalonia, the land where he was born and it is an endearing experience for him.
Eric Boo is a somewhat unusual clown: although he has worked in various circuses, he has mainly developed his career in varietés and music-halls. In addition, of the thirty-two years that he has been acting as a professional, he has spent sixteen in two unique rooms: Moulin Rouge and Son Amar. This has caused him relative isolation and has removed him from the focus of today. But the possibility of spending several years in the same place has been beneficial to be able to combine his clown work with his activity as a painter (and, afterward as a webmaster). This double facet responds, in a certain way, to an inner need of the artist: on the one hand, as a clown, he needs an extroverted activity, in contact with the public and in a constant game with the reality of the world; on the other, he has an introverted activity, carried out in solitude and which gives rise to the creation of other realities, through painting or visual editing for media on the Internet.